While gold and silver tend to get more attention, many still consider platinum a valuable precious metal. Many investors use platinum as a protection against inflation and a haven from the economy's ups and downs. In addition to its monetary worth, platinum has significant industrial value because of its widespread application in producing automobiles, jewelry, and electrical devices.
Platinum can be invested by purchasing coins or bars, futures contracts, or even stock in a company that mines the metal. Also, you can invest in an ETF that tracks the price of platinum (ETF). This instrument is typically more liquid than storing the physical commodity, and there are no storage or insurance fees associated with it.
What is Platinum?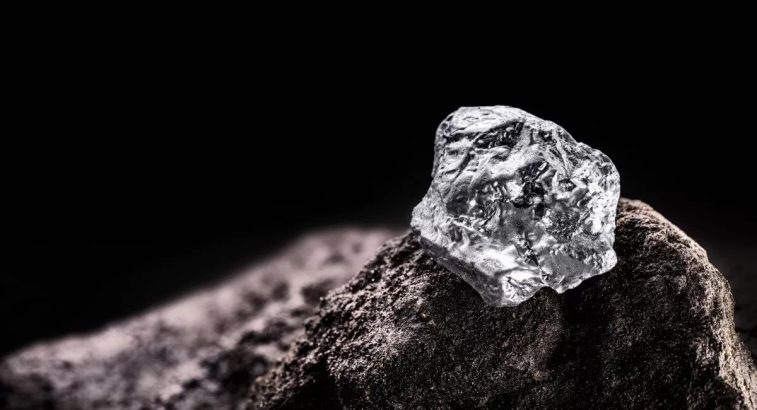 The atomic number and the mass number of platinum are 78 and 195, respectively, in the periodic table of elements. The earth's crust contains this incredibly distinctive element. Platinum comes from the Spanish word Platina, which means "small silver," due to the metal's silvery grey-white hue.
It is one of the rarest metals and extremely precious, with only 5 g/kg available in the earth's crust. Egyptian tombs dating back to 1200 BC contain it, despite its comparatively late discovery by European experts.
Uses of Platinum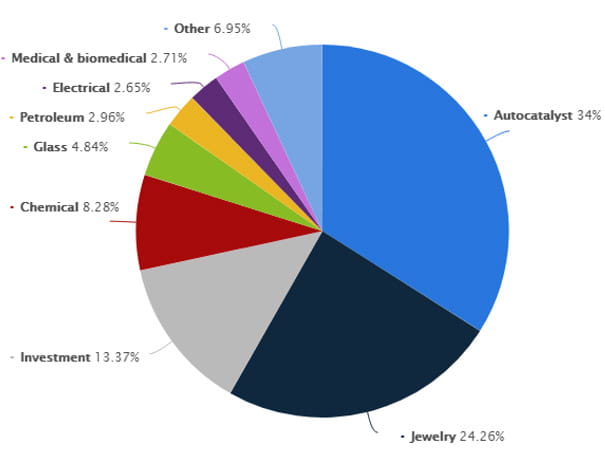 Electrodes made from this material are frequently utilized in scientific research facilities.
Platinum improves the performance of optical fibers, electrical cables, and pacemakers.
Some platinum compounds are utilized in cancer treatment.
Exclusive timepieces made of platinum are a specialty of some watchmakers.
Platinum metal's steady physical and chemical qualities make it a valuable resource. While it's not used very often, when it is, it's used extensively.
Platinum's extreme stability makes it an ideal catalyst for various chemical processes.
The Catalytic Converter in automobiles is the most prevalent example, as it breaks down carbon monoxide (CO) and other lingering particles into carbon dioxide (CO2) and water vapor.
The metal is ideal for manufacturing jewelry because of its malleability, ductility, and inertness. Approximately 50% of the world's annual platinum production is used in the jewelry industry.
What does the Platinum industry look like?
Platinum's worth is comparable to that of gold because of its rarity and the fact that it is very resistant to corrosion. For comparison's sake, in August 2021, the average cost of gold was $1,784 per troy ounce, while the average price of platinum was $1,142. In 2020, the total worldwide platinum output was about 161 metric tons, with 127 metric tons coming from Africa.
The global platinum market is estimated to grow at a CAGR of over 4.5 percent this year, reaching 7,449.05 t oz by the end of the year.
In 2020, the market was negatively impacted the COVID-19 epidemic, which led to widespread lockdowns, disruptions in manufacturing and supply chains, and production halts. Beginning in 2021 and 2022, environmental improvements are predicted to fuel market expansion over the projection period.
How is platinum mined and extracted?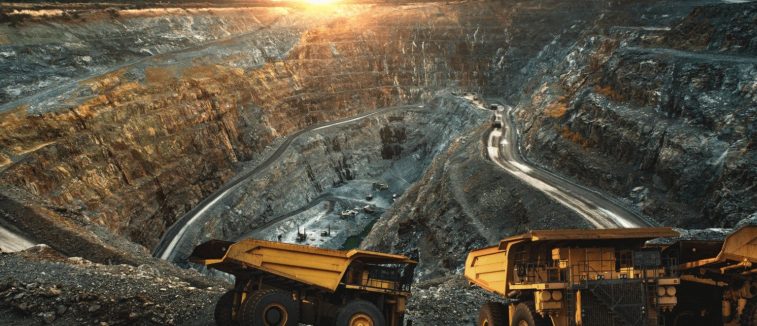 Because of the platinum shortage, open-pit mines are uncommon. One example is narrow vein stopping, a technique many underground mining operations use. Platinum deposits typically take the shape of long, narrow reefs. Explosives are inserted within the mine after holes are drilled into the mine's walls. After the explosives work, the shattered rock holding the platinum and other metals is brought to the surface.
First, the ore is smashed and put through a process called froth flotation; the resulting "soapy" residue is heated to temperatures of up to 1,500 degrees Celsius. Platinum's high melting point ensures that contaminants like iron are burnt off, leaving a powdery sludge of platinum and its class metals (rhodium, iridium, and ruthenium).
Modern Platinum Mining Techniques
Platinum ore mining typically takes place in extremely low-light environments. Explosives are packed into holes drilled in the rock, and the rock is blasted into smaller pieces so that the minerals may be extracted. The fragmented rock is brought up to the surface and processed there.
Purifying platinum from its ore is a time-consuming and expensive procedure. Ore processing can take anywhere from eight weeks to six months, and as much as twelve tons (eleven metric tons) of ore is needed to create only one troy ounce of platinum.
After the mined ore has been broken up and brought to the surface, it is crushed by machines and combined with chemicals to bond the platinum and other metals.
The leading platinum producers in the world
At an expected 120 metric tons in 2020, South Africa will again be the world's largest platinum producer. Russia is the world's second-largest producer of platinum, but its output of just 21 metric tons that year is far below that of the top producer, South Africa. In 2020, Anglo American Platinum will produce about 3.81 million ounces of platinum, making it the top producer in the world by a wide margin.
Platinum investing: Supply and demand
U.S. Geological Survey data from 2016 reveals that South Africa produced 72% of the world's platinum supply. Furthermore, the country has the world's largest reserves of platinum-class metals. An increase in mining in the Bushveld Complex is expected to boost South African gold output to 130,000 oz in 2021 from 112,000 ounces in 2020.
Variations in output from the major platinum-producing countries have become the norm. According to the quarterly market reports published by the World Platinum Investment Council (WPIC), the worldwide supply of platinum will drop by 5% in 2022 compared to 2021.
WPIC states that "significant lower revisions to 2022 mine supply predictions" have been made due to operational difficulties, COVID- and safety-related interruptions, and human resources and power shortages. However, the WPIC anticipates a 2% increase in global platinum demand in 2022 compared to 2021.
The automotive industry is still the largest consumer of platinum since exhaust converters are made almost entirely of platinum. WPIC data shows demand from this industry is "holding up fairly well" despite supply chain difficulties and China's zero-COVID policy. As a result, "2022 is projected to stay the third highest year on record," despite industrial demand decreasing from the record levels reached in 2021.
How to Invest in Platinum
Possible predictors of future platinum price changes include one or more of the abovementioned factors. In other words, if you're considering adding platinum to your investment portfolio, it's wise to keep an eye on these factors.
Bullion
Several companies produce platinum coins and bars for sale. Platinum is one of the heaviest metals, making it impractical for most investors to purchase a substantial amount of bullion for delivery. Platinum weighs as much as a typical human being in a cube, just 6 inches on one side.
Stocks, EFTs, EFNs
If you want to invest directly in platinum, you can do so through a platinum trust. Investing in a platinum mining firm is still another option. The spot price of platinum fluctuates often, but mining businesses are less susceptible to such fluctuations than other commodities. A platinum exchange-traded fund (ETF) would provide little diversity within the platinum market. All EFNs are traded on European exchanges.
Options
The New York Metals Exchange hosts trading for platinum options. When an option holder changes their mind about carrying out the contract terms, all they or stand to lose is the initial investment they made in the option. If the value of an option increases above its strike price, the owner can execute the option since it is now "in the money."
Futures
The New York Metals Exchange and the Tokyo Commodity Exchange facilitate trading in platinum futures contracts. While hedgers aim to reduce their risk exposure, speculators profit from the temporary swings in price.
When purchasing platinum futures, one commits to delivering a predetermined amount of platinum at a predetermined price on a predetermined future date. Futures traders in platinum should be aware of the metal's higher-than-usual price volatility.
Stock Exchanges and Brokers that list Platinum Stocks
You may buy platinum stocks through the following brokerages and stock exchanges.
The New York Stock Exchange (NYSE)
Many companies dealing in platinum have stock listed on the New York Stock Exchange, including Anglo American Platinum Limited (AGPPY) and Impala Platinum Holdings Limited (IMPUY).
The London Stock Exchange (LSE)
Among the many firms whose stock is traded here are Platinum Group Metals Ltd (PLG) and Lonmin Plc (LNMIY).
The Johannesburg Stock Exchange (JSE)
Several South African companies are listed here, including Sibanye-Stillwater Limited (SBGL) and Northam Platinum Ltd (NHM).
The Toronto Stock Exchange (TSX)
Companies dealing in platinum that are listed on the Canadian stock exchange include Platinum One Metals Inc (PT) and Platinum Group Metals Ltd.
The Australian Securities Exchange (ASX)
Platinum stocks such as Aquila Resources Limited (AQA) and Western Areas Limited (WSA) can be found on the Australian stock exchange.
The Frankfurt Stock Exchange
Several platinum equities, including Impala Platinum Holdings Limited and Anglo American Platinum Limited, are traded on the Frankfurt Stock Exchange in Germany.
The Hong Kong Stock Exchange
The Hong Kong Stock Exchange hosts several platinum-related firms, including China Platinum Group Co Ltd (1208. HK) and Platinum Investment Management Limited (PTM. HK).
What are the Best Platinum Mining Stocks?
Below, we'll go through some of the best platinum stocks you can buy now.
Anglo American Platinum (OTCMKTS: ANGPY)
Current price: $13.47
Market cap: 21.376B
If you want to invest in the platinum mining industry, look no further than Anglo-American Platinum. When it comes to platinum, Anglo-Americans are by far the largest primary producer in the globe. A full 38 percent of the annual global production comes from this source.
The corporation has 12 major operational locations and is headquartered in South Africa. The company's mining operations produce a variety of metals and minerals, including platinum, copper, gold, and nickel. Stock in Anglo-American Platinum can be purchased on the over-the-counter market for roughly $20 per share. Nonetheless, in recent months, it reached a high of $28.66. JSE Limited, the biggest stock exchange in Africa, also offers it (JSE).
Impala Platinum Holdings (OTCMKTS: IMPUY)
Current price: $12.72
Market cap: 10.763B
The platinum miner Impala Platinum is the number two producer in the world. Most of its business is conducted in South Africa and the neighboring country of Zimbabwe. Its shares are listed in South Africa and are available for over-the-counter trading in the United States.
Impala Platinum has bid to buy Royal Bafokeng Platinum's controlling interest in the industry (RBPlat). Acceptance of the deal would allow Impala Platinum to merge RBPlat with its operations, which the company believes will increase value for platinum sector players. The firm now owns over forty percent of RBPlat's outstanding stock due to its stock-buying spree.
Platinum Group Metals Limited (NYSE: PLG)
Current price: $1.6000
Market cap: 160.168M
Only one company on this list, Platinum Group Metals Limited, has a public stock price and trades on a major American exchange. It's a Canadian firm having investments in South Africa's Bushveld Complex.
The Bushveld Complex is significant because it is home to some of the world's richest mineral resources. In addition, it contains the greatest platinum group metal reserves on the planet. The share price of Platinum Group Metals Limited is now hovering around $2 on the New York Stock Exchange (NYSE). For less experienced investors, platinum is a perfect first metal to buy.
Sibanye-Stillwater Limited (NYSE: SBSW)
Current price: $11.44
Market cap: 8.152B
Sibanye-Stillwater, created in 2013 as a gold-mining firm with headquarters in Johannesburg, ranks third on the list of major platinum-mining corporations. After acquiring Aquarius Platinum of Bermuda in 2016 and Lonmin of London, a major producer of platinum, Sibanye has come into the spotlight.
The Marikana mine on the western side of South Africa's Bushveld Complex, operated by Lonmin, and the Aquarius Kroondal and Mimosa mines provide the bulk of the company's platinum output.
In 2019, Sibanye-primary Stillwater's production of platinum group metals (PGMs) in the Americas amounted to 593,974 ounces, while its primary output of PGMs in Africa was 1.6 million ounces.
ASA Gold and Precious Metals (NYSE: ASA)
Current price: $16.24
Market cap: 313.268M
The investment management firm ASA Gold and Precious Metals Limited is publicly traded. The company makes investments in public equities markets around the world. Its primary holdings are in firms' equity in discovering, extracting, and refining precious metals and stones.
After closing the previous day at $16.19, shares of ASA Gold and Precious Metals Inc. began at $16.48. The most recent cost was $16.25 (25-minute delay). The twelve-month revenue trail for NYSE-traded ASA Gold and Precious Metals is just under $2.4 million.
Features to Look for in a Platinum Stock
Type of miner
Platinum's shortage means that most publicly traded companies focused solely on mining platinum are microcaps, putting investors at heightened risk. Due to this, some investors favor choosing large mining corporations that generate the majority of their income from operations unrelated to gold or silver mining. They might also put their money into the automobile or jewelry industries, which rely heavily on platinum in their production processes.
Fundamentals
The company's underlying fundamentals usually determine whether or not a publicly listed company's stock rises in value. When deciding which stock to purchase, it's important to consider the company's historical profitability, debt levels, the outlook for its products, the quality of its management, and other factors. If you want to know whether a stock's price will go up or down in the future, you can look at fundamental data like earnings per share.
Partnerships
Although the United States and Canada have some platinum reserves, most of the world's supply comes from Russia and South Africa. Outside these two major producing countries, most miners must form joint ventures with or lease mines from local corporations. Disasters and political unrest in regions with platinum reserves can impact the mining industry.
The Final Thoughts
A platinum investment can serve as a hedge against inflation and a shelter from the economy's turmoil. It's also an industrial metal that goes into making things like automobiles, jewelry, and technological gadgets. Platinum can be invested by purchasing physical bars or coins, futures contracts, shares of platinum mining companies, or an exchange-traded fund (ETF) devoted to the metal.
In 2020, only about 161 metric tons of platinum will be mined worldwide, with Africa's contribution accounting for 127 of those tons. About the predicted period, the platinum market is anticipated to expand at a CAGR of over 4.5%. So, research and follow the expert guidelines before investing in mining stocks.