Nickel is a base metal used extensively in the industrial and manufacturing sectors, so investing in it is a wager on the future of those industries. In contrast to investing in resources such as gold and silver, Nickel and other base metals, including zinc, iron, aluminum, and uranium, are considered "dirty" investments.
When the economy improves, the price of a base metal rises, while when it declines, the price of a precious metal rises. This article contains everything you need to know about Nickel, investing in Nickel mining stocks, and what are the best options to consider.
What is Nickel?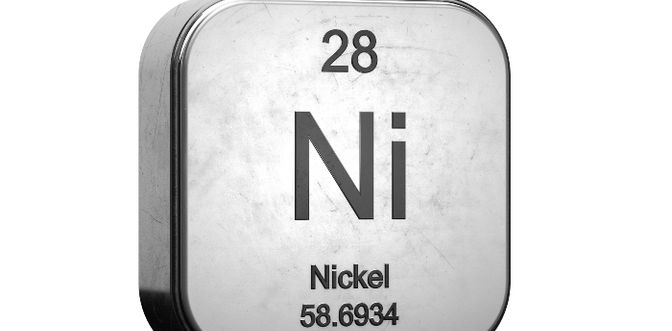 Nickel is a metal that lies in the fourth period of the periodic table. It has the atomic number 28, making it a transition element. While the body requires it, too much of it can be harmful. A human can ingest infectious agents through inhalation, ingestion, or smoking. Cancers of the lung, nasal passages, larynx, and prostate have all been linked to nickel consumption in high enough quantities.
Uses of Nickel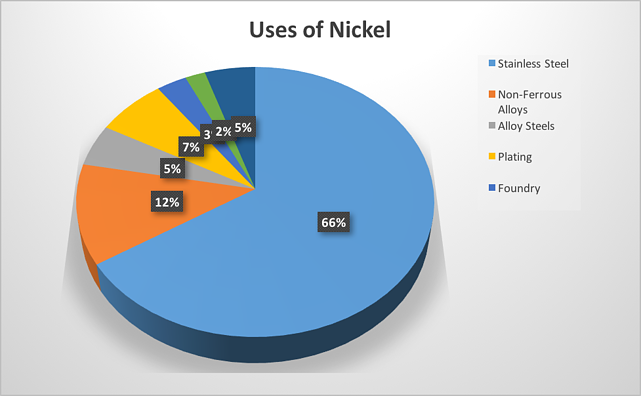 It is used to plate other metals to safeguard them from corrosion, and Nickel has a high resistance to corrosion itself. However, its primary function is to produce alloys like stainless steel. The elements silicon, manganese, and iron are present in nichrome only in trace amounts. It doesn't rust or burn even when heated to a very high temperature, making it perfect for toasters and electric ovens.
Desalination plants often use a copper-nickel alloy to turn salt water into drinkable water. Armor plates made of nickel steel are very durable. Other nickel alloys are forged into shafts and blades for turbines to propel boats.
Batteries like those used in hybrid automobiles rely on Nickel, including rechargeable nickel-cadmium and nickel-metal hydride batteries.
Nickel coins have been in circulation for quite some time. Nickel is the name of the five-cent piece made in the United States. It is made of Nickel and copper.
Hydrogenation of vegetable oils requires finely ground Nickel as a catalyst. A green hue can be achieved by adding Nickel to clear glass.
Nickel for EV batteries
Director of business statistical studies for the International Nickel Study Group (INSG) Richard Ferreira said that the increase in nickel supply could be greater than nickel utilization this year, largely due to new investments in Indonesia and recovery in many other countries. Stainless steel and electric vehicle batteries are the two major sectors that consume Nickel.
The International Nickel Study Group (INSG) predicts that this will cause the global nickel market to shift from a deficit of 168,000 metric tons in 2021 to a slight surplus of approximately 67,000 metric tons this year. However, Cole predicts that the market will remain in deficit, albeit at a much smaller deficit of about 37,000 metric tons.
How does the Nickel industry look like?
The global nickel market is expected to grow at a CAGR of over 4.8% between 2016 and 2021, from a more than $2.1 billion valuation in 2021. Global supply chain networks were significantly disrupted due to the COVID-19 pandemic epidemic, which adversely hampered the nickel market's expansion.
The demand for, and price of, Nickel were affected by the prolonged lockdowns in key economies. Some activities at major mining firms, including Nickel Asia and Global Ferronickel Holdings, were halted in reaction to the epidemic, with some companies noting a lack of ability to maintain regular maintenance shutdown schedules.
In China, stainless steel factories use more than half of the world's primary Nickel. China's stainless steel production increased by 1.6% annually in 2021, reaching 30.6 million metric tons, or 54.4% of the world's total.
How is Nickel Mined and Extracted?
Mining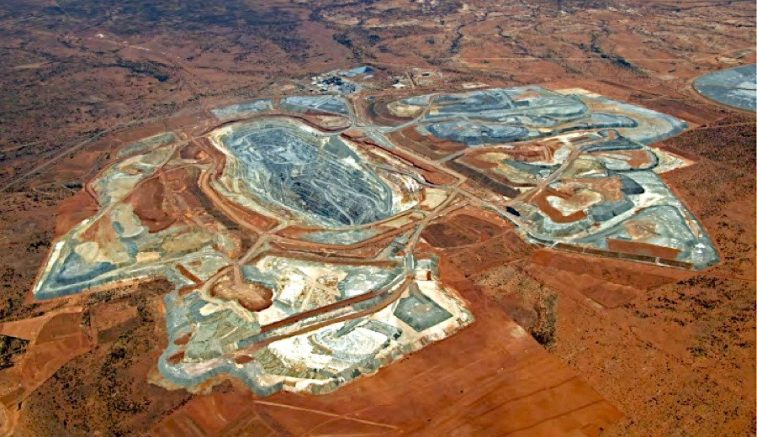 Lateritic ore contains Nickel, extracted by digging to varying depths using heavy machinery. Sulfidic ore, the other nickel-containing ore, is commonly mined together with copper ore.
Lateritic ore is processed using extractive metallurgy to obtain Nickel. Traditional roasting techniques eliminate moisture from the ore before it can be recovered. The next step is a reduction furnace, which eliminates the nickel oxide and drastically decreases the chemically bonded water. With this process, nickel purity was increased to 75%.
Nickle needs to be extracted from the sulfidic ore differently. There are several ways to smelt metals now, including flash and electricity. The ore is added to the preheated oxygen in the furnace. Using this smelting method, we can extract 45% pure nickel by oxidizing iron and sulfide. At this point, oxygen is introduced into the molten bath to remove any excess iron and sulfide.
The Leading Nickel Producer Countries in the World
There was an increase of 6.8% in 2021 over 2020 in global nickel mine output, which totaled 2,427.4 kt despite an estimated 4.2% fall in 2020 due to the COVID-19 epidemic. Indonesia, the Philippines, New Caledonia, Russia, and Australia ranked as the top five nickel-producing countries in 2021.
The growth of Indonesia's domestic nickel industry and the progress of the country's high-pressure acid leaching (HPAL) projects make Indonesia the world's largest contributor to supply in 2021. After that, in April 2021, the Philippines will reverse an environmental restriction on new mineral deals that were put in place in 2012.
It's hoped that this would lead to the creation of new mining ventures and the inflow of additional capital into the mining sector. The Ravensthorpe mine, owned by First Quantum Minerals and placed on care and maintenance in late 2017, resumed operations in the first quarter of 2020.
This contributed to a 4.8% increase in Australia's output, despite the continued decline in nickel prices. The largest Russian nickel producer, MMC Norilsk Nickel, saw its output fall in 2021, contributing to Russia's overall reduction in nickel production that year.
Supply and Demand
Demand
Annual sales in the nickel market top $20 billion. In today's market, stainless steel manufacturing accounts for over two-thirds of all steel made. On the other hand, Nickel is essential to modern battery technology powering electric vehicles. This market segment is expected to expand rapidly in the next years, and as a result, the nickel market will see profound changes in the decades to come.
According to the World Bank research "Minerals for Climate Action: The Mineral Intensity for the Clean Energy Transition," the production of minerals like Nickel and cobalt might increase by approximately 500% by 2050 to fulfill the growing demand for clean energy technologies.
In both the Sustainable Development Scenario and the Stated Policies Scenario, global nickel consumption is projected to increase significantly between 2030 and 2040 compared to 2020.
Global nickel demand for EVs and batteries is expected to rise from 81 metric tons in 2020 to 987 metric tons under the Stated Policies Scenario and 3,352 metric tons under the Sustainable Development Scenario.
Supply
There are around 300 million tons of Nickel in the world's resources. More than half of the world's nickel deposits are located in just five countries: Australia, Indonesia, South Africa, Russia, and Canada. Mining operations in more than 25 nations supply the world with an annual output and consumption of more than two million metric tons of fresh or primary Nickel.
In my opinion, the lack of new projects scheduled for completion shortly is evidence of considerable under-investment in the sector. It takes about 8-10 years from beginning a greenfield nickel project (exploration) to beginning production. Further, only 26 of 41 advanced-stage nickel projects are expected to achieve 15% IRR at a long-term nickel price of $20k/t, according to an analysis by UBS.
How to Invest in Nikel
Exchange-traded products (ETPs), futures, raw metals, and stocks are just a few avenues for investors interested in Nickel.
Investment in one of the two exchange-traded notes (ETNs) could be a good method to obtain exposure to the nickel market. Loan instruments issued by banks and other financial institutions are called exchange-traded notes. They are analogous to bonds with no coupon interest.
The London Metal Exchange is where you can buy and sell nickel futures with the "NI." These nickel futures contracts are for six metric tons of Nickel and are quoted in USD per metric ton (MT). The US dollar, Japanese yen, British pound, and Euro are accepted for clearing.
Lastly, mining businesses account for a disproportionate share of the nickel stock market. Investors in nickel equities would be wise to examine the sector's vital statistics before committing capital. Please take a look at their past and future ambitions. Determine the worldwide economic forecast for Nickel, including any associated difficulties with the environment or corporate governance.
Stock Exchanges that list Nickel Stocks
The following stock exchanges and brokerages have nickel mining stocks available for purchase.
The New York Stock Exchange (NYSE)
Equity investments in nickel mining companies such as Freeport-McMoRan Inc. (FCX), Glencore Plc (GLNCY), and Vale SA (VALE) are listed on the New York Stock Exchange, the largest exchange in the world.
The NASDAQ Stock Exchange
Numerous companies, including First Quantum Minerals Ltd. (FQVLF) and Northern Dynasty Minerals Ltd. (NAK), have stock that trades on this alternative American stock exchange.
The London Stock Exchange (LSE)
Here you can find British stocks like those of BHP Group Plc (BHP), Rio Tinto Plc (RIO), and Anglo American Plc (AAL).
The Toronto Stock Exchange (TSX)
Several Nickel mining companies are traded on this Canadian exchange, including Teck Resources Limited (TECK), Lundin Mining Corporation (LUN), and Sherritt International Corporation (S).
The Frankfurt Stock Exchange
Several companies involved in nickel mining are listed on the Frankfurt Stock Exchange in Germany's financial capital. These companies include Glencore Plc (GLNCY), Vale SA (VALE), and BHP Group Plc (BHP).
Exchange for Australian Securities (ASX)
Australian stocks such as BHP Group Limited (BHP), Rio Tinto Limited (RIO), and Western Areas Limited (WSA) are involved in the nickel mining industry.
The Hong Kong Stock Exchange
Many firms involved in nickel mining are listed on the Hong Kong Stock Exchange, including China Nickel Resources Holdings Co. Limited (1337. HK) and Jinchuan Group International Resources Co. Ltd. (2362. HK).
What are the Best Nickel Mining Stocks?
Vale S.A. (NYSE: VALE)
Current Price: $13.20
Market Cap: $63.573B
The Brazilian company Vale S.A. produces more Nickel than any other entity. It is our list of the top 10 nickel stocks to purchase. In the last year, shareholders have seen a return of 120 percent on their initial investment in the company's stock. Analysts believe Nickel will become increasingly important in EV battery production in the future years. Given that this company is the largest nickel producer in the world, it will be in a prime position to profit from this trend.
As China moves metal from national reserves into the open market to contain skyrocketing commodity prices, investors may want to keep an eye on mining equities like Vale S.A.
Fisher Asset Management, a Washington, DC-based investment firm, has 38 million shares in Vale S.A. valued at more than $661 million, making it one of the hedge funds tracked by Insider Monkey with the largest stake.
BHP Group (NYSE: BHP)
Current Price: S69.17
Market Capitalization: $246.59B
Metals like gold, silver, copper, zinc, and Nickel are mined and produced by BHP Group, a natural resources corporation. Nickel is also smelted and refined by the business. It is ranked number two on our ten greatest nickel stocks. In the past year, shareholders have seen a return of 48% on their investment in the stock. The mining company has a market capitalization of about $161 billion and reported revenues of almost $43 billion in 2017.
According to Reuters on June 16th, Samarco, a mining company, expected a debtor-in-possession loan from BHP Group and another large mining firm for $238 million to keep operations going. BHP mostly owns Samarco.
Glencore plc (GLNCY)
Current Price: $10.53
Market Capitalization: $68.953B
Glencore commands global respect and admiration as a world-leading mining and commodities trading firm. More than 30 metric tons of Nickel were produced by Glencore in the first three months of 2022, a year-over-year increase of 22%. Copper, cobalt, zinc, lead, gold, silver, ferrochrome, coal, and oil are just some of the natural resources and precious metals to which Glencore provides access.
Glencore's commitment to achieving net-zero emissions by 2050 makes it an appealing investment for ESG investors. Glencore is a nickel stock to examine because it now pays a dividend of 5%.
Sibanye-Stillwater LTD. (NYSE: SBSW)
Current Price: $11.24
Market Capitalization: $7.956B
Palladium, platinum, rhodium, iridium, ruthenium, copper, chromium, and Nickel are all precious metals mined and refined by Sibanye-Stillwater Ltd. There are branches of the company in the United States, Zimbabwe, Canada, and Argentina, in addition to its main office in South Africa.
Forecasts for SBSW have been mostly positive from industry watchers. This stock is popular among hedge funds because of its volatility. Its stock value has doubled since 2020, and it has a solid track record as a dividend payer. The consensus forecast calls for a 13% rise in the stock price. According to market analysts, this stock has a negative floor of over 9% and a potential upside of over 72%.
Materion Corporation (NYSE: MTRN)
Current Price: $90.65
Market Capitalization: $1.861B
Materion Corporation's businesses provide advanced engineered materials for use in many fields worldwide. These fields include semiconductors, industry, defense, aircraft and homeland security, transportation, energy, consumer electronics, and communications and data centers.
Shares of Materion Corporation opened the day at $90.00, rising from the previous closure of $90.36. This item's most recent price tag was $88.76. (25-minute delay). With 3,443 full-time workers and over $1.7 billion in revenue over the last twelve months, Materion Corporation is a publicly traded firm on the New York Stock Exchange.
What to Consider Before Investing in Nickel?
There are a few things to keep in mind when picking nickel mining stocks:
Regulatory Environment
There is a lot of oversight in the nickel mining sector, which can be affected by shifts in government policy and international relations.
Market Conditions
The steel and alloy industry is a major consumer of Nickel; thus, the existing and future demand for these products should be considered.
Industry Competition
In addition, the nickel mining sector is concentrated, so you should evaluate the company's market share and level of competition before making a financial commitment.
Costs of Production
When evaluating a nickel mining company's viability in a low nickel pricing environment, it is vital to consider the company's manufacturing costs due to the capital-intensive nature of the business.
Exploration and Growth Potential
The company's exploration and development efforts and potential for future increases in reserves and production need to be assessed.
ESG Considerations
The environmental and social impacts of nickel mining and the industry's track record in these areas should be considered.
The Final Thoughts
Those interested in investing in the nickel mining industry can do so by consulting a financial advisor or by learning more about publicly traded companies engaged in the mining and production of Nickel. Nickel Asia, Global Ferronickel Holdings, and Vale are just a few firms that extract Nickel from the earth.
It's worth noting that the supply and demand for Nickel and the health of the industrial and manufacturing sectors can impact the metal's price. Furthermore, in 2021, the nickel market was worth more than 2.1 million tons, and it is expected to expand at a CAGR of 4.8% throughout the analysis. Before making investment decisions, it's wise to do some homework and talk to a financial expert.