Founded in 2002, First Majestic Silver Corp. (NYSE: AG) is one of Canada's leading companies specializing in silver mining, with operations across Mexico and the United States. The company has continued to engage in the acquisition, exploration, development, and production of mineral resources and properties, with a special focus on gold and silver production. Over the years, First Majestic Silver Corp. has risen to success with four fully functional production mines under its sole control. These include the San Dimas Silver/Gold Mine, La Encantada Silver Mine, Santa Elena Silver/Gold Mine, and the Jerrit Canyon Gold Mine. The company was previously known as First Majestic Resource Corp, but was renamed to First Majestic Silver Corp. in November 2006.
---
Financials
First Majestic Silver Corp. (NYSE: AG) has 262,948,170 outstanding shares, 5,000,000 warrants, and 6,584,805 options. As of November 2022, the company has a market cap of 2.43 billion U.S. dollars, with the average daily trading volume of the stock being 7,340,760. At the time of writing this report, the stock is trading between $8.81 to $9.14 per share.
Ownership of the First Majestic Silver Corp is divided into several entities, with Van Eck Associates as the largest shareholder, holding 9.9% of the outstanding shares. The second-largest shareholder is Sprott Mining Inc., owning about 8.1% of the common stake. In contrast, the third-largest shareholder, ETF Manager Group LLC, owns about 4.2% of the company's stock, and the CEO, Keith Neumeyer, owns about 1.5% of the company's shares.
According to research findings, half of the company shares are collectively owned and controlled by the top 25 shareholders, suggesting a widely disseminated share structure with no dominant shareholder. The public comprises individual investors who own about 57% of the company's stock. Other shareholders include The Vanguard Group, Inc, Global X Management Co. LLC, Arrowstreet Capital L.P., and Merian Global Investors (U.K.) Ltd, and Jupiter Asset Management Ltd.
First Majestic Silver Corp. announced in a press release on July 20, 2022, that it had signed an equity distribution agreement with BMO Capital Markets and T.D. Securities. This new agreement would replace the old one from May 2021 and allows the company to sell its common shares through "at the market distributions." The company plans to use the net proceeds of the offering along with its current cash resources to improve and develop the existing mines.
---
Projects
First Majestic Silver Corp. (NYSE: AG) is currently managing seven projects in total. The company's strategy is to build sustainable mining operations that focus on the well-being of the communities and environmental practices. This is believed to position them as an emerging world-class silver producer through the acquisition and expansion of advanced-stage silver projects in Mexico.
San Dimas Silver/Gold Mine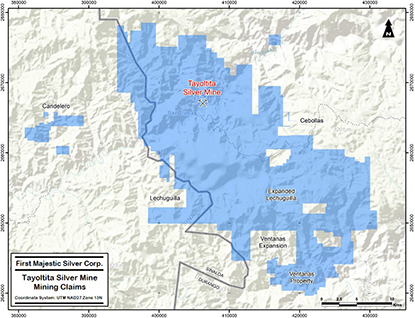 The San Dimas Silver/Gold Mine is the cornerstone property of the company, having been acquired in May 2018 alongside the acquisition of the Primero Mining Corp. The mine is located approximately 130 km northwest of Durango, Durango State, Mexico, and consists of about 71,868 hectares of mining claims cutting across the states of Sinaloa and Durango, both in Mexico.
Without equivocation, the San Dima mines have expanded rapidly as one of Mexican's prominent silver mines. It is now the largest producing underground mine in the Durango area, with over 250 years of operating history beginning in 1757. The San Dimas mine's initial cyanidation mill was built in 1904, and the operating plan has been to continually process ores from several underground mining areas with a 2,500 TPD capacity operation, which produces silver and gold ore bars. From the Durango International Airport, the San Dima mines can be easily accessed via a 40-minute flight. The First Majestic Silver Corp has about 1800 workers employed at the San Dima mines, mainly recruited from the nearby community of Tayoltita.
Santa Elena Silver/Gold Mine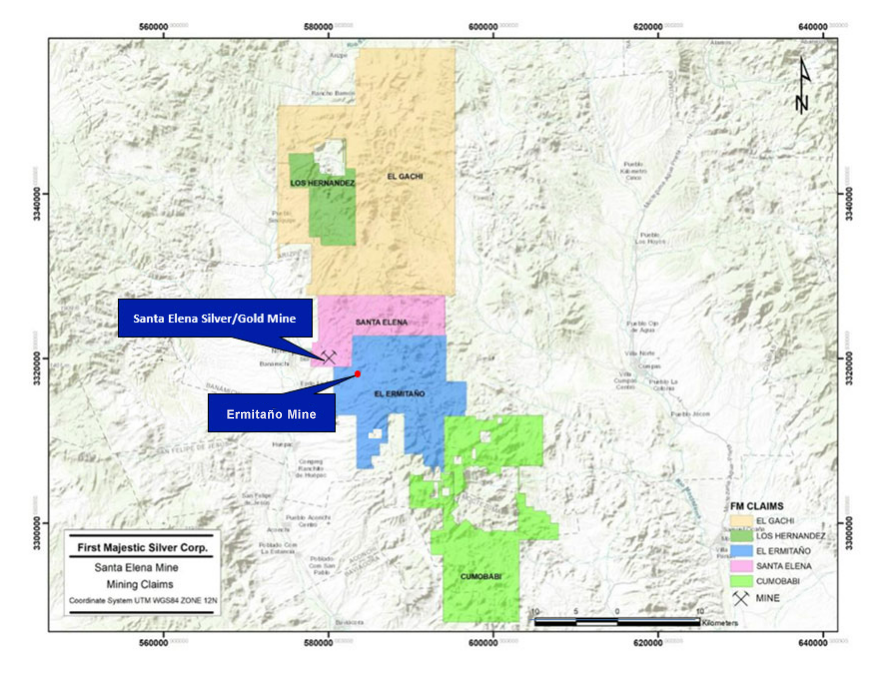 The Santa Silver/Gold Mine is located approximately 150 kilometers northeast of Hermosillo, a city in Sonora, Mexico. The mining concession controlled by the mine covers up to 102,244 hectares. Before the acquisition, the mine plant was processing ore in a 3,000 TPD cyanidation circuit, mainly from the combination of underground reserves. It also had an open pit mine, an underground mine, a leach pad, and 85,646 hectares of land packages.
After being purchased by First Majestic Silver Corp, the company increased its mining concessions to 16,526 hectares by purchasing 100% of the nearby Ermitano project, which is barely 4 km southeast of the mill. Ermitano has over 50 million silver equivalent ounces, and First Majestic Silver Corp began commercial production from the newly acquired assets in late 2020.
La Encantada Silver Mine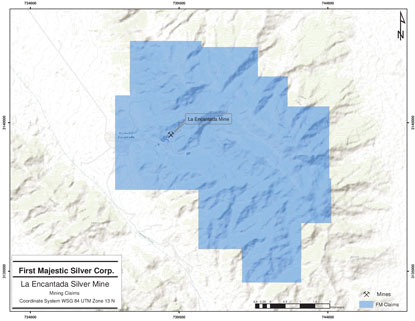 The La Encantada Silver Mine is located in the State of Coahuila, northeast of Mexico. It is an underground mine approximately 708 kilometers northeast of Torreon. This silver mine has about 4,076 hectares of mineral concessions and a surface land ownership of 1,343 hectares. Also, this silver mine has been one of the First Majority Silver Corps assets since 2006. It has a 4000 TPD cyanidation plant and other structures like administrative offices, a general store, a laboratory, airstrips, and all the other cutting-edge infrastructure needed for optimal operation.
One can easily reach the mine and the private airstrip with a 2-hour flight from the well-known Durango International Airport or by traveling to Muzquiz, Coahuila State, 225 kilometers away from the city. Seven hundred eighty-two full-time employees work at the site, most of whom are from the isolated area nearby. The La Encantada mill was opened for commercial operation in 2008. Recent improvements include installing high-intensity grinding mills, cutting energy expenses by 20%, and more.
Jerrit Canyon Gold Mine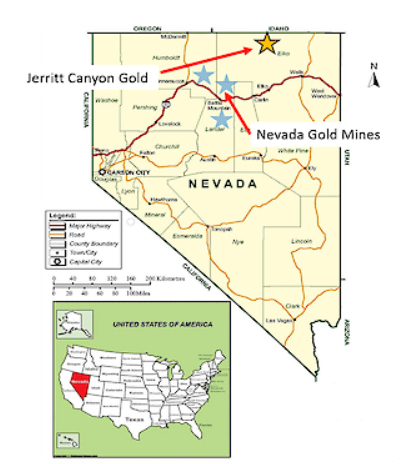 The Jerrit Canyon Gold Mine in Elko County, Nevada, was founded in 1972 and began producing gold in 1981. The Jerrit Canyon processing plant, one of Nevada's three most significant gold processing plants, has produced more than 9.7 million ounces of gold throughout its 40-year operational history. Despite having a capacity of 4,000 TPD, the Jerrit Canyon Gold Mine currently runs at a daily average of 2,500 TPD due to its limited ore operation from two underground mines.
The Jerrit Canyon Gold Mine spans 30,821 hectares, or 119 square miles, of a sizable and underutilized land package. The opportunities identified by First Majestic Silver Corp. in this mine will improve the cost and production profile of the operation, as well as the potential for brownfield redevelopment between the SSX Smith mines in the short term and the long-term exploration potential for the entire property.
---
Management
The management of First Majestic Silver Corp. includes several key executives with years of experience in mining operations. First Majestic Silver Corp's website states that the company's mission is to produce profitable ounces and optimize and grow mineral resources through ethical, innovative, and sustainable practices through an empowered workforce that encourages continuous improvement and permanence of the organization. The company's values include honesty, accountability, trust, creativity, attitude, sustainability, and loyalty.
The President and Chief Executive Officer, Keith Neumeyer, has been active in the financial sector since 1984. He started his career with several national Canadian brokerage firms, including numerous publicly traded firms in the resource and high-tech industries. Mr. Keith also held directorships and top management positions with responsibility for company restructuring, business growth, finance, and other areas. In 2002, he founded First Majestic Silver, and in 2015, he established First Mining Gold.
The Chief Operating Officer, Mr. Holmes, is a mining engineer with more than 35 years of experience and is responsible for managing all operational activities at the silver mines and projects of the company. Mr. Holmes previously worked for the Barrick Gold Corporation as Vice President of the Joint Venture Portfolio. He coordinated Barrick's involvement in the activities and initiatives of the Global Joint Venture.
The Company's Chief Financial Officer is David Soares. He has been a top leader at international mining companies like Xstrata, Glencore, and Barrick for the last 15 years. Before joining First Majestic Silver Corp, Mr. Soares was the Chief Financial Officer at Kirkland Lake Gold, one of the best-performing senior gold producers.
Sources
https://firstmajestic.com/projects/producing-mines/san-dimas/
https://firstmajestic.com/projects/producing-mines/santa-elena/
https://firstmajestic.com/projects/producing-mines/la-encantada/
https://firstmajestic.com/projects/producing-mines/jerritt-canyon/