Blackrock Silver Corp. (OTC: BKRRF) is a Canadian company that acquires mining properties in the United States. The company is currently exploring new gold and silver deposits and managing two major projects in Nevada. Blackrock Silver Corp. has its headquarters in Vancouver, Canada, and was incorporated in 1999. The company was formerly known as Blackrock Gold Corp. but has since changed its name to Blackrock Silver Corp. to better fit the company's renewed focus on silver extraction.
---
Financials
Blackrock Silver Corp. has 166,723,229 outstanding shares, 32,676,605 warrants and 10,785,000 options. The company has a market cap of 63.88 million U.S dollars. According to Yahoo Finance, the average daily trading volume of the stock is 305 thousand shares over three months. At the time of writing, the stock is trading around $0.38 per share, down 67 percent from a historical peak of $1.18 per share.
Ownership of Blackrock Silver Corp. is divided between several entities. 37% of the stock is owned by retail investors, while the management and directors own 4%. Institutional investors and high-net-worth clients own the remaining 59% of the stock. The latter group includes First Majestic Silver, Eric Sprott, SSI A.M., Sprott A.M., Crescat Capital, Gold 2000, and MMCAP.
Blackrock Silver Corp. announced in a press release on March 3, 2022, that Mr. Sprott had purchased 5,681,819 shares at a total value of 5 million Canadian dollars. Blackrock Silver Corp. intends to put the net proceeds from this transaction toward the exploration of the company's portfolio of gold and silver assets in Nevada and general working capital.
---
Projects
Blackrock Silver Corp. is currently managing two projects in Nevada. The company's strategy is to employ modern artificial intelligence technology to analyze the abandoned sites of historic miners. The findings of those geological surveys allow the company to identify resources and maximize the output of previously abandoned sites.
Tonopah West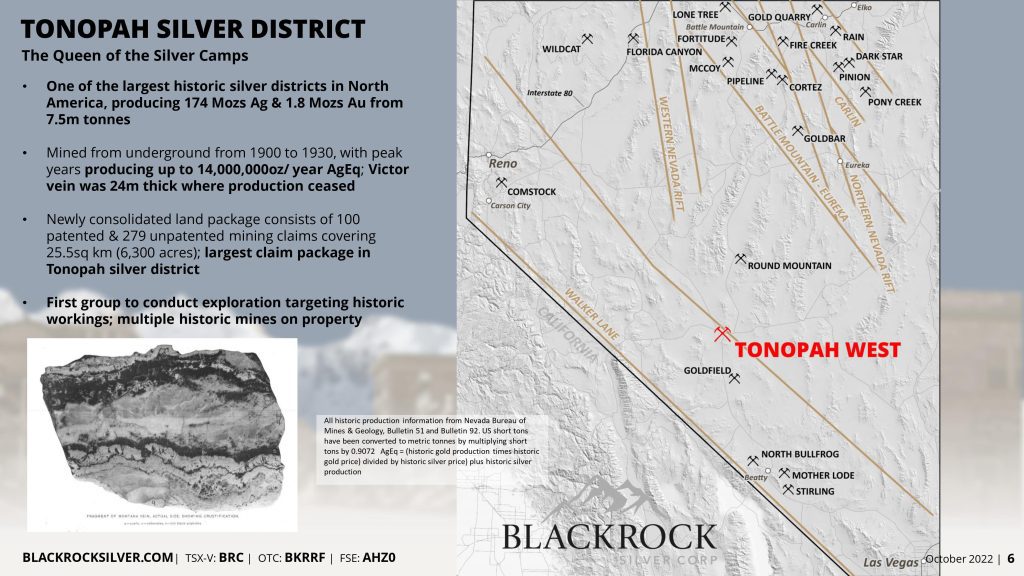 Tonopah is a town in the state of Nevada that sits between Reno and Las Vegas at the junction of U.S. Routes 6 and 95. Tonopah had a population of 2,179 residents in 2020 and covers an area of 9.26 square miles. The town was founded 122 years ago, in 1900, after prospector Jim Butler discovered silver-rich ore in the area.
According to the legend, Butler was looking for a mule that had gotten lost during the night and was hiding near a rock outcropping. The following day, when Butler found the animal, he was angry and picked up a rock to throw at it. When he did, he noticed that the stone was unusually heavy. Jim Butler had found the second most valuable silver in Nevada history. The discovery attracted many investors who wished to consolidate the mines and develop the infrastructure of Tonopah.
Tonopah was heavily mined from 1900 to 1930. The area produced up to 14,000,000 ounces per year AgEq during its peak production, resulting in an extracted total value of $150,198,315 from 1900 to the 1940s. The western portion of the district is estimated to have yielded 2,305,192 tonnes in the same period, which sums up to a value of $40,189,799.
However, the amount of silver produced had declined by 1910, and Tonopah had fewer than half its original population by 1920.
A new geological survey conducted by Blackrock Silver Corp. in Tonopah West has revealed a potential for the historic mining sites. The survey reports an inferred yield of 42,614,000 oz AgEq from two veins. As a result, the company has acquired the most extensive claim package in the Tonopah silver district, consisting of 100 patented and 279 unpatented mining claims that collectively cover an area of 6,300 acres. Blackrock Silver Corp. estimates that the project will cost $4,000,000.
S&P Global reports that Tonopah West is the second-highest undeveloped silver project in the world, with deposits larger than 40 million ounces AgEq. With over 120,000 meters of drilling completed since June 2020, Tonopah West is also the most active silver exploration project in America. As a result, Fraser Institute has ranked Nevada as the third largest mining jurisdiction on the planet in the year 2021.
Silver Cloud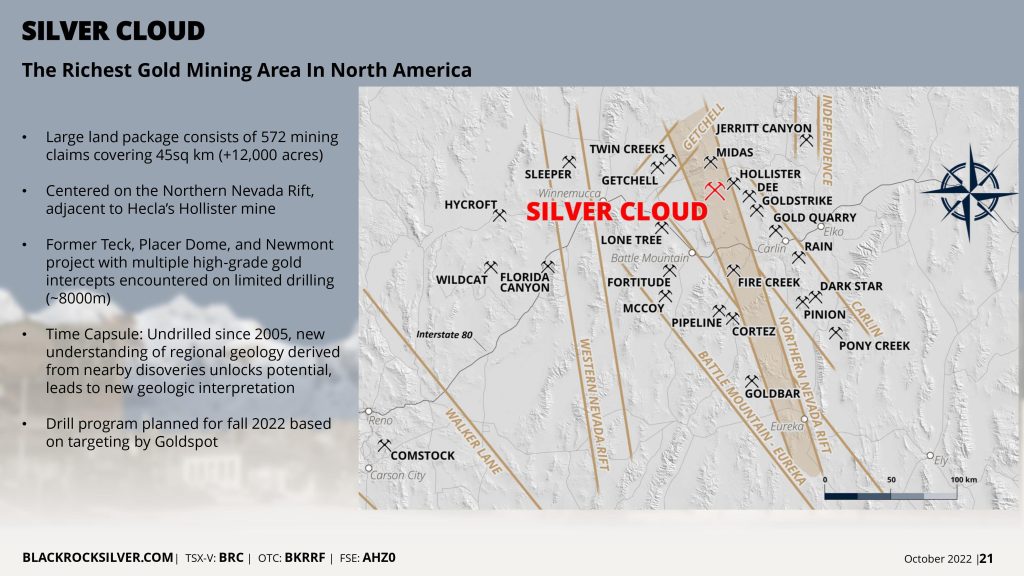 The Silver Cloud area is located in Elko County, Nevada, and was formerly occupied by a mercury mine in the northeastern section. Mercury and arsenic are two elements that are essential indicators of low-sulfidation epithermal gold deposits. Recent geological discoveries near the Silver Cloud area have led to a new understanding of the region's untouched potential. Blackrock Silver Corp. hopes to unlock the resources hiding in this historic mining site that has never been drilled.
As a result, Blackrock Silver Corp. has acquired a land package comprising 572 mining claims over 12,000 acres. The area is centered on the Northern Nevada Rift, right next to Hecla's Hollister mine. The company has identified four target areas: Quiver, NE Veins, NW Canyon, and Silver Cloud. On March 29, 2021, the company announced preliminary results from its exploration unit's 2020 winter drilling program conducted in those areas.
The exploration unit of the company drilled a total of 12,381 feet within three main targets on their claim in the Silver Cloud district. These tests were conducted and supervised by Mr. William Howald. The company used a Boart Longyear track reverse circulation drill to accomplish this feat. After the drilling process was completed, the samples were taken to the American Assay Laboratory in Sparks, Nevada, for investigation. The laboratory analysis results show significant gold mineralization, and the findings warrant additional follow-up drilling in multiple locations.
The exploration unit of Blackrock Silver Corp. also found eight exposed veins at the surface level, which have now become a priority target of the company. To further investigate the area, Blackrock Silver Corp. announced in a press release that they have partnered with Goldspot Discoveries Corp. to use their machine learning program on the Silver Cloud mining location. As a result of using this technology, the company has been able to locate ten new drill targets with high-priority status.
---
Management
The management of Blackrock Silver Corp. includes several key executives with years of experience in the industry of mining operations. In an excerpt on their website, Blackrock states that they are committed to improving the future wealth of the people and region surrounding their activities and our shareholders' wealth. One of the company's objectives is to uphold company ethical, moral, socially responsible, and environmental standards.
William Howald, the Executive Chairman & Director of the company, was born in Butte, Montana, and has more than 34 years in the international exploration and mining industry. Most recently, he was in charge of the acquisition, construction, and launch of the Florida Canyon mine, which is located in west-central Nevada. After only 18 months of being under new ownership, the mine started producing at a commercial scale. To this day, Bill has successfully secured nearly $300 million in project financing for acquiring properties in Argentina, Brazil, Chile, Peru, the Dominican Republic, and Nevada. Mr. Howald currently oversees the exploration of potential mining targets for Blackrock Silver Corp.
Andrew Pollard, the President & CEO of Blackrock Silver Corp., had already established himself as a prominent player within the mining industry before joining the company in 2019. In 2006, Mr. Pollard founded the Mining Recruitment Group Ltd (MRG) to amass a personal network in the mining & finance world. Mr. Pollard then used his relationships to create some of the most successful and prominent resource companies.
Daniel Vickerman, the Senior Vice President of Corporate Development at Blackrock Silver Corp., has twenty-five years of expertise in the financial industry and corporate finance. Mr. Vickerman spent over four years trading commodities and foreign exchange for a London-based asset manager with over $400 million in AUM. He also has vast expertise in mineral exploration and development firms and has successfully raised over $1 billion for private and public enterprises.
Randy Minhas, the Chief Financial Officer at Blackrock Silver Corp., is an accomplished Chartered Professional Accountant who has worked extensively in finance for companies in the manufacturing, resources, and technology industries. In addition to having worked as CFO for Blackrock in the past, Mr. Minhas has also previously held the role of Group Controller for Rye Patch Gold Corp., a gold-producing company in Nevada. Mr. Minhas has a Bachelor of Business Administration from Simon Fraser University, a Chartered Accountant designation, and a Chartered Director Certification.
Sources